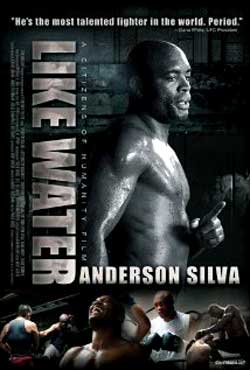 In the most brutal and often most misunderstood sport in the world, becoming a champion takes more than just blood, sweat, and tears. Like Water follows middleweight Ultimate Fighter Anderson Silva as he prepares to crown his four-year run as the unbeaten king of the sport with a record 12th straight win in the UFC. With intimate access to Silva and his intense training, the surprising and inspiring man behind one of the greatest mixed martial artists of all time emerges.
Anderson Silva is the longest-reigning UFC Champion, and the most feared fighter in mixed martial arts. Like Water which begins with the famous footage of the Legendary Bruce Le e talking about the philosophy of being 'Like Water', offers a unique perspective of the living legend as he trains with fellow fighters Lyoto "The Dragon" Machida, Junior Dos Santos, and Antonio "Minotauro" Nogueira, in preparation for his career defining title defense against challenger, and arch villain Chael Sonnen. Sonnen, a former champion wrestler, has many predicting that he is the one fighter who possesses the skill set required to defeat Silva. A man of few words, Anderson Silva walks the fine line between cockiness and confidence. A philosopher in spirit, and dedicated family man, Silva's personality contradicts that of Sonnen's, who uses trash talk and intimidation to get under his opponents' skin. Balancing family and fighting; respect for the sport, and rage for his opponent; Silva's mind and body will be put to the test, as first-time filmmaker Pablo Croce peels back the layers of an ultimate fighter to reveal the heart of a champion.
Welcome to ACF - Choose to Change your Life!
To find out more about our courses, you are requested to call us and speak to Sasmira at 9820496752
A VISIT can then be scheduled to the Academy on a Sat or Sun from 8am to 5pm by prior appointment. Depending upon your needs and requirements, we shall advice on tailormaking a program course for you, choosing from various program options. You shall be counseled extensively by our expert counsellors at no fee for either visit or counseling. Photo ID will be required for entry into the Academy for purposes of security.
THE FEE will depend upon the time slot, course selected, upon who trains you (Director, Multi Faculty or Instructors) and how many hours program selected by you) Fees are affordable considering the extensive facilities and resulting lifetime of change in personality change and combat dominance.
JOINING OPTIONS: Thereafter its upto you to join or not. When your course begins, what time slot is desired and other factors may be resolved subsequently on telephonic discussions with our office.
DETAILS
: Further details can be availed by visiting our primary websites
www.martialartsmumbai.com
www.jkdindia.com
www.jkdasia.com
e-MAIL
 us: info@JKDindia.com OR uccamumbai@gmail.com