Ground Fighting in BJJ
Brazilian Jiu-Jitsu emphasizes getting an opponent to the ground in order to utilize ground fighting techniques and submission holds involving joint-locks and chokeholds. The premise is that most of the advantage of a larger, stronger opponent comes from superior reach and more powerful strikes, both of which are somewhat negated when grappling on the ground. A more precise way of describing this would be to say that on the ground, physical strength can be offset or enhanced by an experienced grappler who knows how to maximize force using mechanical strength instead of pure physical strength.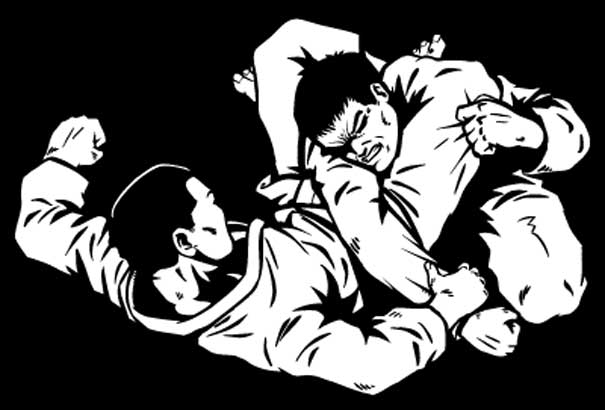 BJJ permits a wide variety of techniques to take the fight to the ground after taking a grip. While other combat sports, such as Judo and Wrestling almost always use a takedown to bring an opponent to the ground, in BJJ one option is to "pull guard." This entails obtaining some grip on the opponent and then bringing the fight or match onto the mat by sitting straight down or by jumping and wrapping the legs around the opponent. Once the opponent is on the ground, a number of maneuvers (and counter-maneuvers) are available to manipulate the opponent into a suitable position for the application of a submission technique. Achieving a dominant position on the ground is one of the hallmarks of the BJJ style, and includes effective use of the guard (a signature position of BJJ) position to defend oneself from bottom (using both submissions and sweeps, with sweeps leading to the possibility of dominant position or an opportunity to pass the guard), and passing the guard to dominate from top position with side control, mount, and back mount positions. This system of maneuvering and manipulation can be likened to a form of kinetic chess when utilized by two experienced practitioners. A submission hold is the equivalent of checkmate in the sport, reflecting a disadvantage which would be extremely difficult to overcome in a fight (such as a dislocated joint or unconsciousness).
Renzo Gracie wrote in his book Mastering Jiu-jitsu:
"The classical jujutsu of old Japan appeared to have no common strategy to guide a combatant over the course of a fight. Indeed, this was one of Kano's most fundamental and perceptive criticisms of the classical program.' Maeda not only taught the art of judo to 

Carlos Gracie

, but also taught a particular philosophy about the nature of combat developed by Kano, and further refined by Maeda based on his worldwide travels competing against fighters skilled in a wide variety of martial arts."
Physical combat can be broken down into distinct phases, such as the striking phase, the grappling phase, the ground phase, etc. Thus, it is a smart fighter's task to keep the fight located in the phase of combat that best suited to his own strengths. These strategies were further developed over time and became prominent in contemporary MMA.
Welcome to ACF - Choose to Change your Life!
To find out more about our courses, you are requested to call us and speak to Sasmira at 9820496752
A VISIT can then be scheduled to the Academy on a Sat or Sun from 8am to 5pm by prior appointment. Depending upon your needs and requirements, we shall advice on tailormaking a program course for you, choosing from various program options. You shall be counseled extensively by our expert counsellors at no fee for either visit or counseling. Photo ID will be required for entry into the Academy for purposes of security.
THE FEE will depend upon the time slot, course selected, upon who trains you (Director, Multi Faculty or Instructors) and how many hours program selected by you) Fees are affordable considering the extensive facilities and resulting lifetime of change in personality change and combat dominance.
JOINING OPTIONS: Thereafter its upto you to join or not. When your course begins, what time slot is desired and other factors may be resolved subsequently on telephonic discussions with our office.
DETAILS
: Further details can be availed by visiting our primary websites
www.martialartsmumbai.com
www.jkdindia.com
www.jkdasia.com
e-MAIL
 us: info@JKDindia.com OR uccamumbai@gmail.com