Victory in MMA Fights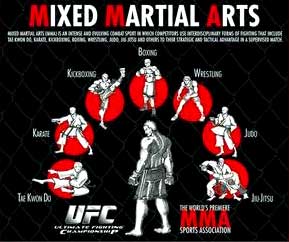 Victory in a match is normally gained either by the judges' decision after an allotted amount of time has elapsed, a stoppage by the referee (for example if a competitor can not defend himself intelligently) or the fight doctor (due to an injury), a submission, by a competitor's cornerman throwing in the towel, or by knockout.
Knockout (KO): as soon as a fighter becomes unconscious due to strikes, his opponent is declared the winner. As MMA rules allow ground fighting, the fight is stopped to prevent further injury to an unconscious fighter.
Submission: a fighter may admit defeat during a match by:

a tap on the opponent's body or mat/floor
a verbal announcement/verbal tap

Technical Knockout (TKO): * Referee stoppage: The ref may stop a match in progress if:

a fighter becomes dominant to the point where the opponent can not intelligently defend himself and is taking a lot of damage
a fighter appears to be unconscious from a submission hold or due to a strike
a fighter appears to have a significant injury such as a cut or a broken bone

Doctor Stoppage: the referee will call for a time out if a fighter's ability to continue is in question as a result of apparent injuries, such as a large cut. The ring doctor will inspect the fighter and stop the match if the fighter is deemed unable to continue safely, rendering the opponent the winner. However, if the match is stopped as a result of an injury from illegal actions by the opponent, either a disqualification or no contest will be issued instead.
Corner stoppage: a fighter's corner men may announce defeat on the fighter's behalf by throwing in the towel during the match in progress or between rounds.
Decision: if the match goes the distance, then the outcome of the bout is determined by three judges. The judging criteria are organization-specific.
Forfeit: a fighter or his representative may forfeit a match prior to the beginning of the match, thereby losing the match.
Disqualification: a "warning" will be given when a fighter commits a foul or illegal action or does not follow the referee's instruction. Three warnings will result in a disqualification. Moreover, if a fighter is injured and unable to continue due to a deliberate illegal technique from his opponent, the opponent will be disqualified.
No Contest: in the event that both fighters commit a violation of the rules, or a fighter is unable to continue due to an injury from an accidental illegal technique, the match will be declared a "No Contest".
Most fighters found out that the best combination was to train in a few grappling styles such as Western Freestyle and Greco-Roman Wrestling, Brazilian Jiujitsu, judo, Sambo, or Submission Wrestling and a couple of striking arts such as Western boxing and Muay Thai.
Welcome to ACF - Choose to Change your Life!
To find out more about our courses, you are requested to call us and speak to Sasmira at 9820496752
A VISIT can then be scheduled to the Academy on a Sat or Sun from 8am to 5pm by prior appointment. Depending upon your needs and requirements, we shall advice on tailormaking a program course for you, choosing from various program options. You shall be counseled extensively by our expert counsellors at no fee for either visit or counseling. Photo ID will be required for entry into the Academy for purposes of security.
THE FEE will depend upon the time slot, course selected, upon who trains you (Director, Multi Faculty or Instructors) and how many hours program selected by you) Fees are affordable considering the extensive facilities and resulting lifetime of change in personality change and combat dominance.
JOINING OPTIONS: Thereafter its upto you to join or not. When your course begins, what time slot is desired and other factors may be resolved subsequently on telephonic discussions with our office.
DETAILS
: Further details can be availed by visiting our primary websites
www.martialartsmumbai.com
www.jkdindia.com
www.jkdasia.com
e-MAIL
 us: info@JKDindia.com OR uccamumbai@gmail.com