Mixed Martial Arts
Want to learn Mixed Martial Arts in Mumbai? What is MMA? Mixed Martial Arts or MMA is a full contact combat sport that allows use of striking & grappling while standing and on the ground. You can use boxing, wrestling, Brazilian jiu-jitsu, Muay Thai, kick boxing, karate, judo or whatever style you choose. Call Sasmira on 9820496752 for more info on courses and how you can get started.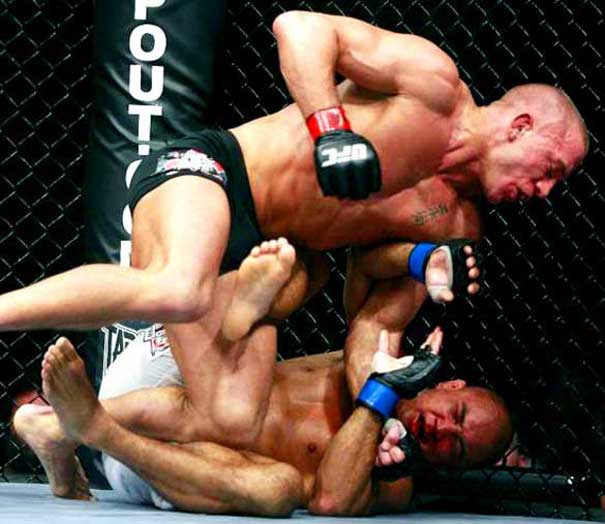 History
The roots of modern mixed martial arts go to the Olympic combat sport of Pankration which was an ancient Greek art form. Various such contests took part in Europe, Japan and the Pacific Rim during the early 1900s. Vale Tudo that developed in Brazil in the 1920s was brought to USA by the Gracie family in 1993 with the Ultimate Fighting Championship (UFC), currently the largest MMA company worldwide. Dana White, the founder of UFC has attributed the Legendary Bruce Le e to be the Father of MMA. In Japan, Shooto had been happening since 1989. The more dangerous Vale Tudo style bouts of the early UFC's were made safer with additional rules, leading to the popular regulated form of MMA seen today. What began as a competition with the intent to finding the most effective martial arts for real unarmed combat situations, competitors were pitted against one another with minimal rules. Later, fighters began employing multiple arts into their style and promoters adopted additional rules to increase safety thus promoting mainstream acceptance. The name MMA or Mixed Martial Arts was coined by Rick Blume, president and CEO of Battlecade, in 1995. Following the changes, Mixed Martial Arts has seen increased popularity with a pay per view business that rivals boxing and professional wrestling.
Various Martial Arts & Style
Traditional Martial Arts have a specific range that is the primary focus. Since MMA involves all ranges, different arts are popular:
Stand-up Fighting: Boxing, Kickboxing, Muay Thai, and Karate are trained to improve footwork, elbow-ing, kicking, knee-ing and punching.
Clinch: Freestyle, Greco-Roman wrestling, Sambo and Judo are trained to improve clinching, takedowns and throws, while Muay Thai is trained to improve the striking aspect of the clinch.
Ground: Submission Grappling, Brazilian Jiu-Jitsu, shoot wrestling, catch wrestling, Judo and Sambo are trained to improve ground control and position, as well as to achieve submission holds, and defend against them.
Versatility and Age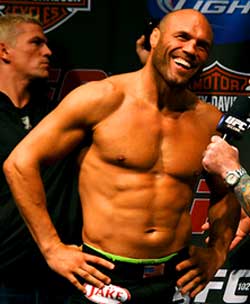 It is common for a fighter to train with different styles and work on various aspects of fitness and skill. Cardio-vascular conditioning, speed drills, strength training and flexibility are all important aspects of a fighter's training. Some schools advertise their styles as simply Mixed Martial Arts since it is now a genre in itself; but the training is split into different sections. Today MMA or Mixed Martial Arts, especially in Mumbai is not practised exclusively by competitive fighters. The sport has become mainstream and taught in metropolitan Mumbai to software professionals, college students, executives and even housewives looking for fitness and fun. It has become accessible to a wider range of practitioners of all ages. This training is safe for anyone, of any age, with varying levels of competitiveness. In all professional sports once a player hits 40 he or she would be considered over-the-hill. However, it seems that in MMA many of these athletes actually seem to thrive as they get older. It would be wrong to suggest that all athletes are past their prime after they hit a certain age. Numerous professional athletes in various sports (football, basketball, baseball, boxing, and wrestling) are still training hard and in the game after the age of 40. Take Randy Couture (48 years old) for instance, who during his tenure in the Ultimate Fighting Championship (UFC), Couture became a three-time UFC Heavyweight Champion, two-time UFC Light Heavyweight Champion, an Interim UFC Light Heavyweight Champion, and was the UFC 13 Heavyweight Tournament Winner.
Welcome to ACF - Choose to Change your Life!
To find out more about our courses, you are requested to call us and speak to Sasmira at 9820496752
A VISIT can then be scheduled to the Academy on a Sat or Sun from 8am to 5pm by prior appointment. Depending upon your needs and requirements, we shall advice on tailormaking a program course for you, choosing from various program options. You shall be counseled extensively by our expert counsellors at no fee for either visit or counseling. Photo ID will be required for entry into the Academy for purposes of security.
THE FEE will depend upon the time slot, course selected, upon who trains you (Director, Multi Faculty or Instructors) and how many hours program selected by you) Fees are affordable considering the extensive facilities and resulting lifetime of change in personality change and combat dominance.
JOINING OPTIONS: Thereafter its upto you to join or not. When your course begins, what time slot is desired and other factors may be resolved subsequently on telephonic discussions with our office.
DETAILS
: Further details can be availed by visiting our primary websites
www.martialartsmumbai.com
www.jkdindia.com
www.jkdasia.com
e-MAIL
 us: info@JKDindia.com OR uccamumbai@gmail.com