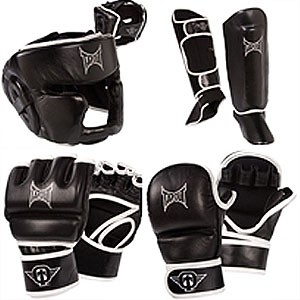 Mouth Guard – Generally any mouth guard will do the job of protecting your teeth and 'double mouth guards' also protect the top and bottom teeth. Though, they keep the jaw from shutting all the way and can make it worse sometimes. Ensure that it's moldable and fits well, because that's what matters.
MMA Gloves – MMA/Grappling gloves must not be too stiff, with good Velcro closers. Thumbless gloves are preferable and having an attached thumb really does not provide additional support, often making grappling uncomfortable.
Boxing Gloves – A good pair of gloves that can be used for bag work and sparring. Better to have specific gloves for each (lighter, smaller gloves for the bag and larger softer gloves for sparring) 12 ounce or standard 16 ounce training gloves will be just fine.
Shin Pads – Standard Muay Thai shin pads are heavy duty and should cover the shin from below the knee cap to the ankle and protect the instep too. The MMA shin pads are made out of a thinner foam and a thin neoprene sleeve that your leg slips through. Use shin pads to avoid injuries.
Headgear – The fit of the headgear is important, so try it on before you buy it. Get one with a snug fit, so it does not move when taking a hit or when grappling. Ensure that your visibility is not compromised and balance comfort with visibility.
Welcome to ACF - Choose to Change your Life!
To find out more about our courses, you are requested to call us and speak to Sasmira at 9820496752
A VISIT can then be scheduled to the Academy on a Sat or Sun from 8am to 5pm by prior appointment. Depending upon your needs and requirements, we shall advice on tailormaking a program course for you, choosing from various program options. You shall be counseled extensively by our expert counsellors at no fee for either visit or counseling. Photo ID will be required for entry into the Academy for purposes of security.
THE FEE will depend upon the time slot, course selected, upon who trains you (Director, Multi Faculty or Instructors) and how many hours program selected by you) Fees are affordable considering the extensive facilities and resulting lifetime of change in personality change and combat dominance.
JOINING OPTIONS: Thereafter its upto you to join or not. When your course begins, what time slot is desired and other factors may be resolved subsequently on telephonic discussions with our office.
DETAILS
: Further details can be availed by visiting our primary websites
www.martialartsmumbai.com
www.jkdindia.com
www.jkdasia.com
e-MAIL
 us: info@JKDindia.com OR uccamumbai@gmail.com